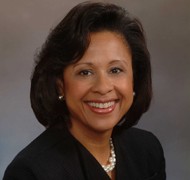 Paula Johnson, MD, MPH
"This data reveals strong, bi-partisan support for the full continuum of women's health – beginning with biomedical research, continuing with preventative care, health care and support for caregivers," said Paula Johnson, MD, MPH, executive director of the Connors Center at BWH and professor of Medicine at Harvard Medical School. "The upcoming Congress will be an important one for women's health."
The survey was part of a 2014 mid-term election exit poll supported by the Connors Center for Women's Health and conducted by the bipartisan team of Lake Research Partners and the Tarrance Group. Among its key findings:
• A jump in support among Republican voters: 40 percent of Republicans surveyed indicated that women's health should be a top or high priority for lawmakers—up from 27 percent in a similar exit poll conducted during the presidential election of 2012—while 81 percent of Democrats said that women's health should be a top or high priority.
• More than half, 58 percent, of all voters ranked women's health care, including preventive care, a top or high priority.

• In addition to women's health care, support for women's health research, the biomedical science that informs diagnosis and treatment, is also a high priority among voters, with 53 percent of those surveyed ranking women's health research a top or high priority.
• Support for family caregivers rated strongly, with 54 percent of voters indicating that providing family caregivers with the support they need to take care of their families' health should be a top or high priority.
• 43 percent of Republicans and 69 percent of Democrats rated support for family caregivers as a top or high priority. By gender, 50 percent of men and 58 percent of women said this should be a top or high priority.
In late spring or early summer, the U.S. Government Accountability Office (GAO) is expected to release a report looking into progress—or lack of—in the area of women's health research with a focus on the fundamental inequities that exist in this area, from an underrepresentation of females in clinical trials to a failure to report on the impact of sex differences on drug dosage and healthcare protocols in medical journals, thereby basing diagnosis and treatment predominantly on male physiology only.
The survey also revealed that support for family care giving is an emerging bipartisan issue for policymakers, with a majority of voters indicating that they want the government to provide more support to ensure that caregivers, who are predominantly women, have the resources they need to take care of their families' health.
"The support numbers for caregiving are not surprising given the current caregiver environment in the U.S." said Therese Fitzgerald, PhD, MSW, director of the Women's Health Policy & Advocacy Program at the Connors Center for Women's Health at BWH. "While there are not enough supports for caregivers, the number of aging Americans is rising every day, Alzheimer's disease is an epidemic, and record numbers of women are in the workforce, many of whom are mothers. Sandwiched between providing child care and elder care while working, mothers and fathers are finding themselves stretched thin and appealing to their leaders for help."
Pollsters have identified this "sandwich generation" as an emerging group of swing voters who will be a driving force in upcoming elections and have noted that they vote, not as Democrats and Republicans, but as daughters, parents, sisters and sons.
Johnson believes the strength and bi-partisan support reflected in the poll numbers may signal a new definition of women's health that values the overall health of women at every stage of their lives. "This is no longer a wedge issue or one that is owned by the left," she said. "We are now seeing strong voter support from Americans who represent all walks of life– from young men and women, Independents and Republicans, blue collar workers and higher income earners, who care strongly about the health and wellbeing of women throughout their lifetimes," she said.
The Connors Center at BWH commissioned Lake Research Partners and Tarrance Group to design and administer this pre-election and election night omnibus survey, which was conducted by phone using professional interviewers November 2-4, 2014. The survey reached a total of 1,200 registered voters nationwide who voted in the 2014 elections – 900 interviews among voters who were reached on landlines and 300 interviews among voters who were reached on cell phones. The data was weighted by age, race, party identification, education, marital status, and census region to reflect the actual proportions of the electorate. The survey has a margin of error of ±2.8 percent at the 95 percent confidence interval.