Joseph Crisco, professor of orthopaedics, wanted to measure the impact of shots to the head in girls' lacrosse. He invited some players into his lab to take some shots at a test dummy. The data could inform an eventual standard for girls' and women's lacrosse.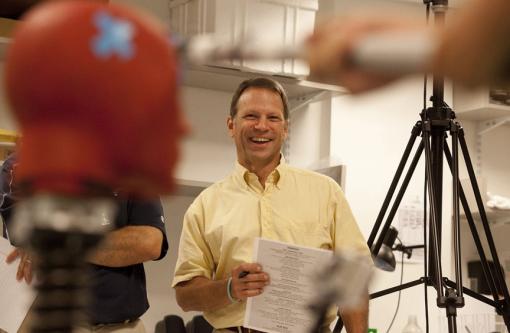 PROVIDENCE, R.I. [Brown University] — Dr. Joseph Crisco, the Henry F. Lippitt Professor of Orthopaedics, recently invited female lacrosse players ranging in age from 12 to 28 into his Rhode Island Hospital lab to swing their sticks for a project titled "Head Accelerations from Various Stick Checks in Girls' Lacrosse."
The research, funded by US Lacrosse, the national governing body of men's, women's and youth lacrosse, and by the National Operating Committee on Standards for Athletic Equipment, will provide data on how the head is accelerated after being hit by a stick. Video analysis of players taking whacks at a helmeted dummy, taken at 1,000 frames per second, could inform an eventual standard for girls' and women's lacrosse headgear.
For years, Crisco has studied head impacts in sports such as football, hockey, and lacrosse by embedding accelerometers in the helmets of collegiate teams and gathering data from actual practices and competition.
Editors: Brown University has a fiber link television studio available for domestic and international live and taped interviews, and maintains an ISDN line for radio interviews. For more information, call (401) 863-2476.