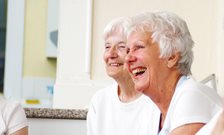 Playing online games that challenge reasoning and memory skills – brain training – could have significant benefits for older people in their day to day lives, according to a new study published today (3 Nov) in JAMDA.
Researchers at the Institute of Psychiatry, Psychology & Neuroscience (IoPPN) at King's College London have shown that an online brain training package can not only improve memory and reasoning skills – but also how well older people carry out everyday tasks such as navigating public transport, shopping, cooking and managing personal finances.
Previous research has shown some promise for brain training in improving memory, although these small-scale studies have been inconclusive. This new research, which is funded by Alzheimer's Society, is the largest randomised control trial to date of an online brain training package. Involving almost 7,000 adults aged over 50, it is also the first to evaluate the impact of computerised brain training on how well people can perform their daily activities.
The brain training package comprised three reasoning tasks, such as balancing weights on a see-saw, and three problem-solving tasks, such as putting numbered tiles in numerical order. Study participants (initially recruited from the general population through a partnership between the BBC, Alzheimer's Society and the Medical Research Council) were encouraged to play the game for 10 minutes at a time, as often as they wished. Before starting the study and again after six weeks, three months and six months, the participants completed a series of cognitive tests, including measures of grammatical reasoning and memory. Those over 60 were also assessed on a test of daily living (e.g. using the telephone, navigating public transport and doing the shopping).

(Screenshot from Brain Training demo game)
After six months, brain training led to significant improvements in scores on the test of daily living in people over 60, and significant improvement in reasoning and verbal learning in those over 50 compared to those who didn't play the reasoning and problem solving games. Playing the brain training games five times per week was most effective in bringing about these improvements.
While some decline in memory and thinking skills is a normal part of healthy ageing, more severe impairments can be a precursor to dementia, a condition characterised by the progressive loss of ability and function. Previous research has shown that people who have complex occupations or engage in cognitively stimulating activities such as crosswords, puzzles and learning new skills throughout life tend to have lower rates of dementia.
This new study could have important implications for preserving cognitive function in older adults and might offer an effective, easily accessible intervention to help people reduce their risk of cognitive decline later in life.
Dr Anne Corbett from the Wolfson Centre for Age-Related Diseases at the Institute of Psychiatry, Psychology & Neuroscience (IoPPN), King's College London, said: 'The impact of a brain training package such as this one could be extremely significant for older adults who are looking for a way to proactively maintain their cognitive health as they age. The online package could be accessible to large numbers of people, which could also have considerable benefits for public health across the UK.
'Our research adds to growing evidence that lifestyle interventions may provide a more realistic opportunity to maintain cognitive function, and potentially reduce the risk of cognitive decline later in life, particularly in the absence of any drug treatments to prevent dementia.'
Dr Doug Brown, Director of Research and Development at Alzheimer's Society said: 'Online brain training is rapidly growing into a multi-million pound industry and studies like this are vital to help us understand what these games can and cannot do. While this study wasn't long enough to test whether the brain training package can prevent cognitive decline or dementia, we're excited to see that it can have a positive impact on how well older people perform essential everyday tasks.
'With a rapidly ageing population, evidence that this type of brain training has a tangible, real-life benefit on cognitive function is truly significant. As government and society explore ways to enable people to live independently as they get older, this study has important implications for policy makers and public health professionals.
'Finding ways to help people maintain good brain health and avoid dementia is a key focus for the Society's research programme and we're delighted to be funding the next stage of this research. We need as many people over 50 to sign up to help us test the effect of brain training over a longer time period.'
Dr Corbett added: 'Today we're launching a new open trial to see how well older people engage with the brain training package over the long-term. We want to investigatehow genetics might affect performance to allow us to better understand how brain training could be used to maintain cognition or even reduce the risk of cognitive decline and dementia.'
Dr Anne Corbett is supported by the NIHR Biomedical Research Centre and Dementia Unit at the South London and Maudsley NHS Foundation Trust and King's College London.
Try out the brain training for yourself, with the demo game, available at www.alzheimers.org.uk/braintraining
People over 50 and living in the UK can take part in the new brain training study by registering online at http://www.protectstudy.org.uk/

Note to Editors
Paper reference: Corbett, A et al (2015) 'The Effect of an Online Cognitive Training Package in Healthy Older Adults: An Online Randomized Controlled Trial' JAMDA DOI: http://dx.doi.org/10.1016/j.jamda.2015.06.014
For further media information please contact Jack Stonebridge, Press Officer, Institute of Psychiatry, Psychology & Neuroscience, King's College London [email protected] (+44) 020 7848 5377 or (+44) 077 1869 7176
Details on the study
Performance on daily tasks was measured using the self-reported Instrumental Activities of Daily Living scale which asks participants to rate their current functional ability on a range of tasks. The tasks include: ability to use a telephone, shopping, food preparation, housekeeping, laundry, transportation, medications and handling finances. Changes in cognitive performance were measured using a range of tests. Reasoning was measured using the Baddeley Grammatical Reasoning test that involves determining the accuracy of a series of grammatical statements about a picture. Verbal learning was measured using the Hopkin's Verbal Learning Test which involves learning and recalling sets of words over timed trials.
Participants over 60 who completed the reasoning and problem solving training package saw a 15% increase on the self-reported Instrumental Activities of Daily Living scale after six months compared to a control group who spent a similar amount of time performing online tasks that did not relate to reasoning or problem solving.
Participants over 50 who completed the reasoning and problem solving training package saw a 30% increase on reasoning scores and a 19% increase in verbal learning scores compared to the control group after six months.