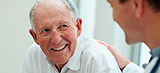 The Centre, which celebrated its first birthday this week, brings together researchers and support from Cancer Research UK, the University of Leeds and Leeds Teaching Hospitals NHS Trust. It is putting Leeds at the forefront of cancer research and bringing direct benefits to even more patients across Yorkshire.
Collaboration has been the key to the success of the Centre, which is based mainly at St James's University Hospital in Leeds. By making it easier for researchers in the labs to work alongside doctors on the ward, patients benefit as soon as possible from research findings.
The Centre aims to be a world leader in developing targeted treatments for cancer by understanding the biology of the disease and tumour differences between patients.
Cancer Research UK-funded research in Leeds focuses on bowel cancer, bladder cancer, skin cancer (melanoma) and kidney cancer. Other important research areas include children's tumours, lung cancer and leukaemia and lymphoma.
Professor Tim Bishop, head of genetic epidemiology at the University of Leeds and chair of the Leeds Cancer Research UK Centre said: "It's been a fantastic first year. Over the last 12 months this exciting initiative has really strengthened our efforts to bring together all cancer researchers in Leeds to work together to improve the lives of cancer patients.
"The Centre has stimulated new ways of working and built closer links with scientists, doctors, chemists, physicists, biologists and engineers on site, working hard to bring treatments from the lab to the clinic much faster.
"We are helping to give patients better access to the latest treatments available. It is a huge benefit for patients to be on clinical trials and we are delighted that so many have been recruited from across Leeds and the wider region in the last year."
Professor Peter Selby, Director of the Leeds Institute of Molecular Medicine, University of Leeds, said: "We have been delighted with the contribution made by the Cancer Research UK Centre in the past year. The research has generated exciting new insights in to the causes, diagnosis and treatment of cancer and we anticipate benefits coming to patients in Yorkshire and beyond in future years."
Dr Geoff Hall, Lead Cancer Clinician at Leeds Teaching Hospitals, said: "Working in partnership with Cancer Research UK and the University of Leeds, the Trust conducts hundreds of cancer trials every year in order to gather robust evidence to improve cancer treatment for patients. Through these trials we are developing greater understanding of the individual characteristics of a patient's cancer and this will lead to more personalised and effective treatments in the future."
Peter Sneddon, Cancer Research UK's executive director of research and funding, said: "The Leeds Cancer Research UK Centre is to be congratulated on its first birthday. Becoming a Cancer Research UK Centre has helped build on the already world-class research happening here in Leeds. With particular strengths in cancer genetics and cancer biomarkers, doctors and scientists in Leeds are learning how to detect the disease earlier and track how well treatment is working.
"There is also a strong tradition of research training in Leeds, and the Centre helps provide a further boost. Training the next generation of cancer researchers helps to ensure that we will continue to make progress in beating cancer for decades to come, both in Leeds and around the world."
For further information:
Nicki Embleton, Cancer Research UK, Tel: 0113 203 2434, email: [email protected]
Paula Gould, University of Leeds press office: Tel 0113 343 8059, email [email protected]