The team is travelling to the East African country, as part of the Ugandan Women's Health Initiative (UWHI), which runs a range of projects in women's health and has a major focus on prevention of cancer of the cervix.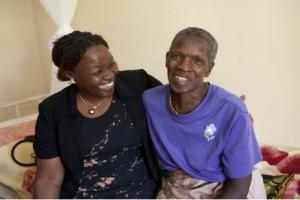 The initiative, a partnership between Makerere University, Mulago Hospital, Hospice Africa Uganda and University College London (UCL) which now also involves The University of Manchester, has helped screen approximately 20,000 women since its inception in 2005 – estimated to have prevented over 1,000 cases of cervical cancer.
It has the technology and the expertise, along with the commitment of the Ministry of Health in Uganda to support the drive to create a national cervical cancer screening programme across 80 centres – if the required additional funding can be generated.
Cancer of the cervix is the biggest cause of death from cancer among women in the country with over 2,400 women dying from the disease, and over 3,500 diagnosed with it, each year. But UWHI co-chair and founder, University of Manchester Vice-President Professor Ian Jacobs said work by the initiative has shown health workers can successfully apply methods to prevent the cancer by simple and cheap screening methods. Professor Jacobs said: "Cervical cancer is a major cause of death and suffering in young women – but it is an entirely preventable disease with free cervical smears and vaccinations.
"However in Uganda, without action, cases will continue to rise. Rolling out screening to all women in Uganda, as we have in the UK, is a big challenge but it is deliverable, if we can continue the collaborative team effort to raise the funds required."
The UWHI has already set up and runs two cervical cancer screening centres in Kampala which are recognised centres of excellence in cervical screening in Uganda. It delivers activities through a small team of long-term Ugandan staff based in the country including a medical director, a programme manager and four nurse midwives.

The UK team visiting Uganda includes Shahina Mohamed, UWHI Coordinator and Operations Director at The University of Manchester's Faculty of Medical and Human Sciences; Marian Surgenor, Head of Global Health at the University Hospital of South Manchester and Anthony Silverstone, Consultant Gynaecologist from University College Hospital, London. They will have a series of meetings to discuss the next steps in the screening programme and have convened a conference for Ugandan nurses and midwives to help boost skills in women's health areas.
Miss Mohammed said: "In the past five years, many lives have been saved thanks to this initiative. It has focused on not just cervical cancer but helped provide training on how to resuscitate newborn babies and prevent mothers dying from haemorrhage at delivery. There have also been trials aiming to minimise the effects of brain injury in newborns.We want to prevent any more unnecessary deaths and suffering.
"The UWHI is a not for profit organisation and we are always seeking donations to help extend cervical screening."
ENDS
Notes for editors
For further information or to interview one of the team, please contact Alison Barbuti on +44(0)161 275 8383 or email [email protected]
The Uganda Women's Health Initiative (UWHI) is a "not for profit" organisation that is dedicated to improving the health of women in Uganda through innovative research and sustainable programmes. It is governed by both UK and Ugandan representatives and a Ugandan co-chair Dr Lawrence Kaggwa,
The UWHI is a collaboration between, Makerere University, Mulago Hospital, Hospice Africa Uganda, University College London and The University of Manchester. Since its inception in 2006, the UWHI has been working with a wide range of clinical professionals and institutions, all of whom have an active interest in women's health issues in Uganda.
During its initial five years, the UWHI has demonstrated a capacity to set up and manage a wide range of women's health-related projects and programmes which have already made a huge difference to the lives of many women and their families.
• The projects have included:
1. Cervical cancer education, screening and treatment centres
2. Training in neonatal resuscitation techniques
3. Prevention of brain damage in newborns
4. A women's health conference in Kampala
5. Development of an academic department of palliative care
6. Construction of a radiotherapy patients' hostel at Mulago Hospital
7. Research into the prevention of postpartum haemorrhage in rural settings
8. Advocacy and patient support
9. Donation of equipment to the UWHI
A book The Uganda Women's Health Initiative: The first five years published by the Ugandan Women's Health Initiative chronicles the scheme's inception and achievements in the first five years of the project.
To donate or for more information about The Ugandan Women's Health Initiative, visit: www.uwhi.org