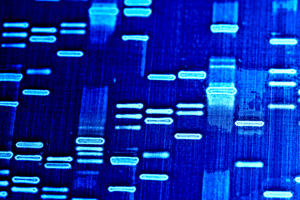 The three-year project, launched by the Prime Minister earlier this year and announced by NHS England today, will transform diagnosis and treatment for patients with cancer and rare diseases.
The initiative involves collecting and decoding 100,000 human genomes – complete sets of people's genes – that will enable scientists and doctors to understand more about specific conditions.
The project has the potential to transform the future of healthcare. It could improve the prediction and prevention of disease, enable new and more precise diagnostic tests, and allow personalisation of drugs and other treatments to specific genetic variants.
Some participating patients will benefit because a conclusive diagnosis can be reached for a rare and inherited disease more quickly, or because a treatment for cancer can be targeted at the particular genetic change that is present in the cancer. But for a number of patients, the benefit will be in the improvement in our knowledge of the influence of genetics on disease and how it is expressed in an individual, how other people can be helped with similar diseases in the future, and how different types of tests can be developed to detect changes beyond the genome.
The 11 designated Genomic Medicine Centres (GMCs) in this wave 1 selection process are based across the country, covering areas including Greater Manchester, Merseyside, Oxford, Birmingham and the West Midlands, Southampton, Cambridge and the East of England, Exeter and the South West Peninsula, and the North East. Over the lifetime of the project NHS England's ambition is to secure over 100 participating NHS trusts. A further wave of GMCs will be procured to ensure that there is comprehensive coverage across the NHS in England.
The GMCs have a track-record of providing excellence in genomic services and have been evaluated by NHS England to ensure they meet the requirements to deliver the project.
It is anticipated that around 75,000 people will be involved, which will include some patients with life threatening and debilitating disease. Recruitment to the project will begin from 2 February 2015.
After samples are collected, they will be sent securely to Illumina who have been procured by Genomics England to sequence the whole genome and to analyse it. Results will be sent back to the NHS for validation and clinical action.
Professor Bill Newman, Professor of Translational Genomic Medicine at The Manchester Centre for Genomic Medicine at The University of Manchester and Honorary Consultant at Central Manchester University Hospitals NHS Foundation Trust said: "The doctors, genetic counsellors, nurses and scientists at the Manchester Centre for Genomic Medicine at Saint Mary's Hospital and colleagues at the Christie Hospital in Manchester are delighted to have been selected to be a Genome Medicine Centre by the NHS. They plan to work with colleagues at Salford Royal, Wythenshawe and Pennine Trust Hospitals to use the new type of genetic testing called whole genome sequencing to find out why some people have certain types of rare health problems and to treat people with cancer more effectively.
"The Saint Mary's team and Christie Hospital have already been part of the successful pilot phase of this project and look forward to working with their patients and their families to use this new genetic testing to benefit as many as possible across the North West."
University of Manchester