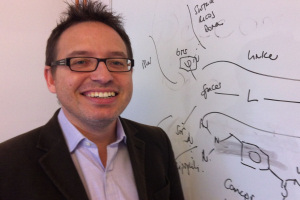 Researchers from The University of Manchester and the University of Westminster have found that the molecule, known as Urocortin, protects cells in the joints from being destroyed.
The discovery could help lead to the development of new medicines to prevent joint degradation – a condition which affects millions of people in the UK each year.
Osteoarthritis, a painful condition associated with a loss of joint mobility particularly in the knees, hips, hands and vertebrae, is caused by the destruction and loss of cartilage within these joints and is on the rise as people live longer.
Specialised cells called chondrocytes are responsible for producing and maintaining healthy cartilage but in osteoarthritis the number of active cells is reduced.
Professor Paul Townsend, joint lead researcher along with Dr Ian Locke, the University of Westminster, in the study published in the journal Cell Death and Disease yesterday (11 July), said: "In osteoarthritis many different programmed cell-death chemicals are produced which cause chondrocytes to die. Our research shows that the naturally occurring molecule, Urocortin, produced by the body is essential for these chondrocyte cells to survive."
Dr Ian Locke, director of Postgraduate Studies at the School of Life Sciences at the University of Westminster, said: "We now need to look in more detail at how Urocortin helps cells to survive in order to develop new medicines to prevent joint degradation.
"Discovering a role for this naturally occurring molecule in joint physiology opens up exciting new avenues of research towards the cause, prevention and, eventually, treatment of osteoarthritis"
The researchers found that removing Urocortin caused large numbers of the chondrocyte cells to die. However adding it protected chondrocyte cells from programmed cell-death induced by chemicals present in osteoarthritic cartilage.
Professor Townsend is Associate Dean at the Faculty of Medical and Human Science at The University of Manchester and part of the Manchester Academic Health Science Centre (MAHSC), a partnership between six leading NHS Trusts and The University of Manchester, which allows academics and clinicians to collaborate on research.
Dr Ian Locke is a Director of Postgraduate Studies at the School of Life Sciences at the University of Westminster and a member of the University of Westminster Cell Communication Research Group.
Notes for editors
The paper was published in Cell Death and Disease.
To interview Professor Townsend, please contact:
Alison Barbuti | Media Relations Officer | Faculty of Medical and Human Sciences |The University of Manchester | Manchester Academic Health Sciences Centre (MAHSC)
Tel. +44 (0)161 275 8383 | Mobile 07887 561 318 |Email: [email protected]
For informatino about the University of Westminster or to interview Dr Ian Locke, please contact:
Mark Knight, Lianne Robinson or Chiara Barreca
Broadgate Mainland
Email: [email protected]
Telephone: +44(0) 20 7726 6111
The University of Manchester
The University of Manchester, a member of the Russell Group, is one of the largest and most popular universities in the UK. It has 20 academic schools and hundreds of specialist research groups undertaking pioneering multi-disciplinary teaching and research of worldwide significance. According to the results of the 2008 Research Assessment Exercise, The University of Manchester is one of the country's major research institutions, rated third in the UK in terms of 'research power'. The University has an annual income of £807 million and is ranked 40th in the world and fifth in the UK for the quality of its teaching and impact of its research.
University of Westminster
The University of Westminster boasts a vibrant learning environment attracting more than 20,000 students from over 150 nations and we continue to invest in our future with new developments, research projects and new ideas.
We offer highly attractive practice-based courses which are independently rated as excellent, many with international recognition. Our distinguished 175-year history has meant we lead the way in many areas of research, particularly politics, media, art and design, architecture and biomedical sciences, and our position in the city of London allows us to continue to build on our close connections with leading figures and organisations in these areas as well as in the worlds of business, information technology, politics and law.
Our commitment to educating graduates for the needs of professional life attracts high quality students from within the UK and around the globe.
Internationalism, employability and sustainability are key elements in the University of Westminster's vision for the future and we strive to ensure the very highest standards are met and maintained.