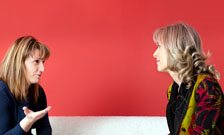 The studies, both led by Professor Myra Hunter at the Institute of Psychiatry at King's College London, suggest that CBT may be a safe and effective alternative to hormone replacement therapy (HRT) in treating symptoms of the menopause.
Hot flushes and night sweats (HFNS) are commonly experienced during the menopause transition and are problematic for approximately 20-25% of healthy women, causing discomfort, embarrassment and sleep disturbance. However, following breast cancer treatments, HFNS tend to be more severe, affecting 65-85% of women, and HRT is often either undesirable or contraindicated.
The first study (MENOS1), published in The Lancet Oncology followed 96 women who had problematic HFNS after breast cancer treatment in a randomised controlled trial (RCT) over 26 weeks. The authors found that group CBT significantly reduced HFNS problem rating at 9 weeks compared with usual care. These improvements were maintained at 26 weeks. The authors conclude that group CBT could be incorporated into breast cancer survivorship programmes and delivered by trained breast cancer nurses.
The second study (MENOS2), published in Menopause: The Journal of the North American Menopause Society, followed 140 healthy women in an RCT over 26 weeks and found that both group and guided self-help forms of CBT led to significant improvements in how problematic women rated HFNS. In both studies there were additional benefits to mood, sleep and aspects of health related quality of life.
Professor Hunter says: 'Cognitive behavioural therapies are brief, effective, non-medical treatment options for menopausal women that can be delivered by trained health professionals. Our finding that self-help therapies can be as effective as group therapies is very exciting as we are keen to increase access to these kind of psychological therapies.'
Professor Hunter is currently working on a study to develop a CBT online strategy, specifically for women who have had breast cancer treatment, with colleagues in the Netherlands, and will be publishing a self-help book for women in general. The research group is also investigating whether CBT helps men who have these symptoms following certain prostate cancer treatments.
MENOS 1 was funded by Cancer Research UK.
MENOS 2 was supported by the National Institute of Health Research (NIHR) Biomedical Research Centre for Mental Health at the South London and Maudsley NHS Foundation Trust and the Institute of Psychiatry at King's College London. The authors thanked the women who participated in the trial and the Mental Health and Neuroscience Clinical Trials Unit at the Institute of Psychiatry, King's College London for their support.
For full papers: Mann, E. et al. 'Cognitive behavioural treatment for women who have menopausal symptoms after breast cancer treatment (MENOS 1): a randomised controlled trial' The Lancet Oncology (15th Jan 2012) doi:10.1016/S1470-2045(11)70364-3
Ayers, B. et al. 'Effectiveness of group and self-help cognitive behavior therapy in reducing problematic menopausal hot flushes and night sweats (MENOS 2): a randomized controlled trial' Menopause: The Journal of the North American Menopause Society (15th Jan 2012) doi: 10.1097/gme.0b013e31823fe835
For more information, please contact Seil Collins (Press Officer) email: seil.collins@kcl.ac.uk or tel: 0207 848 5377