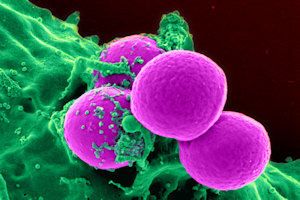 MRSA – one of ther superbugs
Sixteen studies have been funded as part of a call for more research into drug resistant infections also known as antimicrobial resistance (AMR). Drug resistant infections present a major threat to the future of healthcare and could result in 10 million avoidable deaths in the world every year by 2050, from antibiotic resistant infections, such as MRSA, sepsis and multi-drug-resistant Mycobacterium tuberculosis.
The Manchester study is testing the ability of a new colour changing wound dressing for diabetic foot ulcers to detect infection, and whether it is resistant to antibiotics.
The research team have devised sensors, which will change colour when they come into contact with a patient's skin when exposed to pre-determined levels of microorganisms. Additionally some of these sensors only change colour if organisms have resistance to particular antibiotics. By combining several of these sensors in a wound dressing, information about the levels of microrganisms in the wound and their sensitivity to antimicrobial drugs will be clearly visible. Healthcare staff viewing this will immediately have information about the antibiotic drugs most likely to work.
Prompt administration of the correct first-line treatment is critical in reducing the risk of further more devastating complications, sepsis and amputation, particularly in the diabetic population. Currently the only alternative is for a clinician to notice signs of infection and arrange swabs and testing by hospital microbiology laboratories, with results taking up to a week.
Professor Dame Sally C. Davies, Chief Medical Officer and Chief Scientific Adviser at the Department of Health said: "Antimicrobial resistance is a very serious problem for society causing 5,000 deaths in the UK each year. We will lose this battle unless we get more evidence on how to prevent resistance in bacteria developing. That is why the research that the NIHR has committed to funding is so vital. This will help us stop current everyday health problems becoming fatal."
Other projects underway include research into interventions to improve antimicrobial prescribing of doctors in training, using probiotics to reduce infections in care homes, a clinical trial giving painkillers to children with ear infections instead of antibiotics, and a study looking at improving the management of drug resistant TB. View the full list of studies funded on our website (linked to be added once live).
Notes for editors
The NIHR is keen to continue funding research into AMR. For opportunities to apply for funding in this area, please visit http://www.themedcalls.nihr.ac.uk/amr/home
The National Institute for Health Research (NIHR) is funded by the Department of Health to improve the health and wealth of the nation through research. Since its establishment in April 2006, the NIHR has transformed research in the NHS. It has increased the volume of applied health research for the benefit of patients and the public, driven faster translation of basic science discoveries into tangible benefits for patients and the economy, and developed and supported the people who conduct and contribute to applied health research. The NIHR plays a key role in the Government's strategy for economic growth, attracting investment by the life-sciences industries through its world-class infrastructure for health research. Together, the NIHR people, programmes, centres of excellence and systems represent the most integrated health research system in the world. For further information, visit the NIHR website (www.nihr.ac.uk).
The University of Manchester, a member of the prestigious Russell Group of British universities, is the largest and most popular university in the UK. It has 20 academic schools and hundreds of specialist research groups undertaking pioneering multi-disciplinary teaching and research of worldwide significance. The University of Manchester is one of the country's major research institutions, rated fifth in the UK in terms of 'research power' (REF 2014), and has had no fewer than 25 Nobel laureates either work or study there. The University had an annual income of £886 million in 2013/14. www.manchester.ac.uk
For media enquiries contact:
Mike Addelman
Media Relations Officer
Faculty of Life Sciences
University of Manchester
[email protected]
0161 275 2111
07717 881567