HIV disproportionately affects African Americans nationwide, but the community in Jackson, Miss., is especially hard hit. On World AIDS Day Sunday, Dec. 1, 2013, many of the city's most influential pastors will preach about getting tested and overcoming stigma. This campaign of Mississippi Faith in Action, a coalition led by Amy Nunn of Brown University, will launch with a press conference Nov. 29 at the Mississippi State Capitol.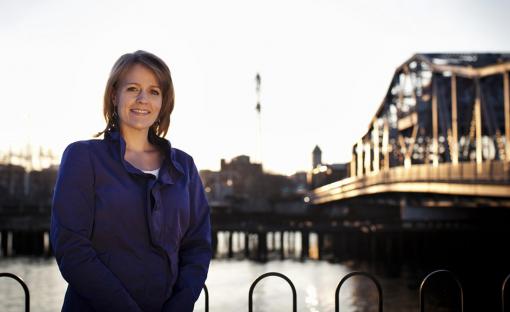 PROVIDENCE, R.I.[Brown University] — World AIDS Day falls on Sunday this year, and in black churches across Jackson, Miss., that won't go unnoticed. In a state with the nation's seventh-highest rate of HIV infection and an AIDS death rate substantially higher than the national average, clergy will preach a public health gospel of getting tested and treated. Before thousands of congregants, they will launch a citywide campaign demonstrating that even in the Bible Belt, black clergy are willing to confront the AIDS epidemic.
When Pastor Ronnie Crudup of New Horizon International Church demonstrated to thousands of members how to take a rapid HIV test last June, he became the first Jackson pastor to partner with Amy Nunn, assistant professor (research) of medicine at Brown University, and Othor Cain, a local media personality who has spent years raising awareness about HIV/AIDS in Mississippi.
Nunn and Cain have now joined with dozens more clergy members in a coalition called Mississippi Faith in Action. The day of preaching about HIV Dec. 1 is the group's first citywide step to combat HIV.
"I think it is important to lead by example," Crudup said. "There is power in knowing your status and knowing that you are loved regardless."
Go, tell it on the mountain …
Black clergy in Philadelphia, above, worked to promote AIDS testing and treatment as a matter of conscience and social justice. A year later, clergy in Jackson, Miss., are preparing to take up the challenge of preaching and reaching and teaching.Mississippi Faith in Action will formally announce the World AIDS Day events and sustained campaign to follow at a press conference on the steps of the Mississippi State Capitol Nov. 29 at 10 a.m. Speakers will include Sen. Kenneth Jones, chairman of the Legislative Black Caucus, and Rep. John Hines.
Then on Dec. 1, Crudup and more than a dozen participating clergy members including Rev. Jerry Young of New Hope Baptist Church, an executive committee member of the National Baptist Association, will preach about the epidemic, demonstrate testing, and encourage congregants to get tested themselves.
For Pastor and City Councilman Tony Yarber, whose sister and nephew died of AIDS-related causes, this call to action is personal.
"I knew that I had to do something," Yarber said. "I couldn't sit back and watch our community die from ignorance. As faith leaders, we are charged with the responsibility of reaching and teaching everyone."
Yarber will offer free HIV testing to his congregation at Relevant Empowerment Church on Dec 1.
Applying research
Nunn has studied the HIV epidemic in the black communities of Jackson and Philadelphia for the last five years. Her research shows that clergy members are willing to combat the epidemic but that focusing HIV prevention messages on community healing, social justice, testing, and treatment resonates more with them than messages about behavior change. Based on such findings and a desire to translate her research to affected communities, Nunn led a similar program in Philadelphia to promote testing and treatment from the pulpit.
Nunn also has received NIH funding to examine how factors such as complex networks and poor access to testing affect blacks' high rates of HIV infection. Along with Dr. Timothy Flanigan, professor of medicine and an HIV/AIDS specialist at Brown, Nunn also leads an NIH grant that trains young black scholars in HIV research with a focus on community mobilization.
According to the Centers for Disease Control, black people are more heavily affected than any other ethnic or racial group. While blacks represent 14 percent of the U.S. population, they account for 44 percent of new infections and of people living with HIV. In Mississippi, where blacks represent 37 percent of the population, they account for 77 percent of new infections.
"AIDS is a social justice crisis that requires community leadership," Nunn said. "We're working with churches in Jackson and across Mississippi to build a sustainable campaign to end the stigma and the silence that prevent people from getting tested and into care. What we're doing in Jackson is something that could and should happen in cities all over the country."
HIV treatment allows people to live long and healthy lives and reduces the risk they will transmit the virus to others. But the HIV/AIDS mortality rate among blacks in Mississippi is nearly nine times that of whites, Nunn said. Scaling up testing and treatment could have tremendous public health impact, she said, but that requires spreading the word.
A sustained campaign
Mississippi Faith in Action plans to sustain its efforts in Jackson by promoting more testing and linkage to care. In a recent study in AIDS Patient Care and STDs, Nunn reported that most of 25 primary care providers she and co-authors interviewed in the Mississippi Delta did not provide routine HIV testing, but would with further training.
Mississippi Faith in Action's efforts are funded by the not-for-profit MAC AIDS Fund. Gladys Thomas directs Nunn's efforts in Philadelphia as well as her Mississippi projects. Community organizer and recent Brown graduate Joanna Poceta works with the coalition, and Brown senior Joanna Zhang contributes digital media support. CommonHealth ACTION, a national organization working locally with expertise in training and capacity building, will help Nunn train clergy in HIV/AIDS awareness.
Nunn and Cain also work with several students and professors from Tougaloo College, a historically black college in Jackson, with which Brown has been an educational partner for 50 years. Nunn also works with Jackson State University and University of Mississippi students and professors.
In February, Mississippi Faith in Action plans two more events including research focus groups among pastors to discuss their experiences preaching about HIV and a conference marking National Black HIV/AIDS Awareness Day Feb. 7.
Editors: Brown University has a fiber link television studio available for domestic and international live and taped interviews, and maintains an ISDN line for radio interviews. For more information, call (401) 863-2476.