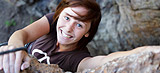 This is the finding of research published online today in the British Journal of Health Psychology.
The study was carried out by Reema Sirriyeh and colleagues from the University of Leeds. Reema said: "There is evidence that people who believe that physical activity is enjoyable and fun are more likely to engage in sport and exercise. We investigated whether highlighting the emotional benefits of sport and exercise to young people increased their levels of physical activity, more than highlighting the physical health benefits."
128 participants aged 16 to 19 took part in the study; all were recruited from the sixth forms of four schools in West Yorkshire. The teenagers all received a daily text message at 4pm for a period of two weeks.
Some teens received text messages that highlighted either the emotional benefits of exercise – such as 'Physical activity can make you feel cheerful. What activity will you do today?', a second group received texts that highlighted the physical benefits, such as – 'Physical activity can keep your heart healthy. What activity will you do today?' and a further group received text messages that were a combination of the two.
The participants recorded their levels of physical activity using the International Physical Activity Questionnaire (IPAQ), which measured the time they spent on of moderate and vigorous exercise.
Analysis of the results found that the physical activity levels of all 128 participants increased after the two-week intervention by an average 31.5 minutes of moderate activity a week. The largest increase in physical activity was seen for inactive teenagers who received the text messages that highlighted the emotional benefits of exercise. This was equivalent to 120 more minutes of moderate exercise.
Reema continued: "Statistics from the British Heart Foundation show that from the age of 16, girls' levels of physical activity begin to decrease. As patterns of behaviour that start in the teenage years tend to persist into adulthood, it's vitally important that teenagers get into healthy patterns, like taking regular exercise.
Our study shows that for inactive teenagers, emphasising the emotional benefits of exercise may be a more effective way to encourage exercise than highlighting traditional health benefits."
For more information
Copies of some of the papers included can be obtained from Joanna Colburn at the British Psychological Society press office. Contact on 0116 252 9904 or email Joanna.colburn@bps.org.uk.
Alternatively, contact Hannah Isom in the University of Leeds press office on 0113 343 4031 or email h.isom@leeds.ac.uk.
Notes to editors
The 2008 Research Assessment Exercise showed the University of Leeds to be the UK's eighth biggest research powerhouse. The University is one of the largest higher education institutions in the UK and a member of the Russell Group of research-intensive universities. The University's vision is to secure a place among the world's top 50 by 2015.