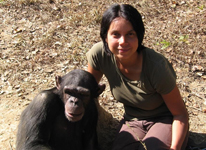 WASHINGTON—Chimps will laugh along with other chimps even when they are not genuinely amused, much like people often laugh politely at another person's joyous laughter, according to new research published by the American Psychological Association.
The study presents the first documented evidence of nonhuman primates replicating emotions of others even when they don't feel those same emotions.
"Chimpanzees laugh responses to other chimps' laughter in this study show an interesting similarity to conversational laughter of humans. Both vocalizations are significantly short and seem to promote social interactions," said the study's lead author, Marina Davila-Ross, PhD, of the University of Portsmouth, United Kingdom. "The ability of humans to produce such distinct responses represents an important component of emotional intelligence and empathy."
The researchers monitored 59 chimpanzees divided into four enclosures within a chimp sanctuary in Zambia, Africa. In two enclosures, the chimps were grouped together for five years, while in the other two enclosures they were grouped for 14 years. Each group had males and females, from infants to adults. Most in the five-year groups were orphans and seemed to have had little previous contact with other chimps, whereas many of the chimps in the 14-year groups were part of second and third generation families.
Previously, great apes have only been documented to laugh during social play and tickling, while experiments using games, video and audio-playback have not evoked great ape laughter.
Because laughter and smiles are integral tools of emotional intelligence among humans, chimpanzees' responsive laughter could give them advantages in cooperation and social communication, the study suggests.
While on average the amount of laughing was about the same among the groups, the research showed that chimps in the five-year groups engaged in more responsive laughing than those grouped together for 14 years. "This indicates that laugh replications have a more important role in the social communication of chimpanzees when their social partners are less predictable and/or when the need for social cohesion increases," the authors conclude.
Chimpanzees are one of four species in the great ape taxonomic family that also includes gorillas, orangutans and bonobos.
Article: "Aping Expressions? Chimpanzees Produce Distinct Laugh Types When Responding to Laughter of Others," Marina Davila-Ross,PhD, Bethan Allcock, Chris Thomas, and Kim A. Bard, PhD,University of Portsmouth, United Kingdom; Emotion, American Psychological Association, Online First Publication.
Contact: Dr. Davila-Ross by e-mail
The American Psychological Association, in Washington, D.C., is the largest scientific and professional organization representing psychology in the United States and is the world's largest association of psychologists. APA's membership includes more than 150,000 researchers, educators, clinicians, consultants and students. Through its divisions in 54 subfields of psychology and affiliations with 60 state, territorial and Canadian provincial associations, APA works to advance psychology as a science, as a profession and as a means of promoting health, education and human welfare.