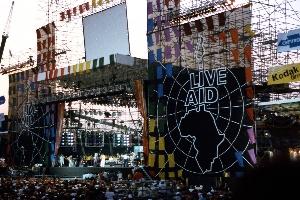 Dr Daniel Brockington says the proportion of newspapers stories about charities which mention celebrity have been declining over recent years, in an article published in the journal Third Sector.
Other research on the use of celebrity in the US, he says, shows that even the highest profile figures can fail to get the causes they advocate prominently reported in the news.
And further analyses of large-scale surveys of media consumption suggests that less than 15% of the population dwells on celebrity culture.
According to Dr Brockington's research, a 2002 highpoint of 16 % of all tabloid articles mentioning both charity and a celebrity fell to 12 % in 2010. For broadsheets, the figure fell from a highpoint of 10% in 2006 to 7.5 % last year.
The well covered Make Poverty History campaign of 2005, he finds, was actually linked to a decrease in the proportion of articles about celebrity in the tabloids.
The Reader in Environment and Development is researching the rise and consequences of celebrity in overseas development over 25 years, in a study funded by the Economic and Social Research Council.
He has been studying newspaper articles, surveys and conducting interviews with industry and NGO figures.
He said: "The surprising implication of my own and other research is that rethinking associations with celebrity may require a deeper engagement with the celebrity industry.
"This requires a more thorough understanding of the circumstances under which celebrity interactions with NGOs are produced and communicated.
"Celebrity is still more likely to be mentioned in articles about charity than most other topics.
"But NGOs and charities should be aware that this is not growing, but declining.
"There is even evidence for an increasing number of non-celebrity articles about development issues in the tabloids in the last few years."
The phenomenon of celebrity causes flourished after the 1984 Ethiopian famine provoked Bob Geldorf, Midge Ure and Band Aid into action.
Since then, development has been producing its own public figures and a large number of other already famous people have devoted considerable resources to good causes.
Major charities over the past ten years have employed celebrity liaison officers, and major talent agencies in Hollywood established foundations to promote charitable activities to their clients.
But many staff within NGOs, say Dr Brockington, do not understand the practicalities of celebrity work and liaison officers are required to exert too much energy managing the expectations of colleagues.
He added: "It's not hard to find a celebrity cause in the media, but that doesn't necessarily mean the public know more or care more about the issues they are promoting.
"In fact, there is enormous pressure on NGOs to work with celebrities.
"This comes from their corporate partners as well as figures in the media, politics, other celebrity circles."
Notes for editors
Dr Brockington is available for interview
To read the Third Sector article, visit: http://www.thirdsector.co.uk/news/Article/1102612/Analysis-Charities-need-rethink-celebrity/
To read the full paper, Trends in reporting on celebrity and charity in UK newspapers 5, visit Dr Brockington's blog at http://celebrityanddevelopment.wordpress.com/blog-and-progress/
A table plotting celebrity and charity newspaper coverage is available
For media enquiries contact:
Suzanne Ross
Press Office
The University of Manchester
0161 275 8258