As part of Good Life, Good Death, Good Grief Awareness Week a major new book from a leading specialist in palliative care is being published.Transforming the Culture of Dying: the Work of the Project on Death in America by Professor David Clark of the University of Glasgow focuses on a change in the culture of dying in the United States of America.‌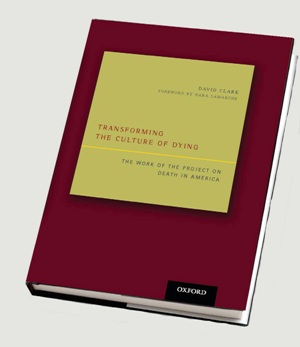 The book examines the ways in which the culture and attitude towards palliative care have changed in America over the past twenty years, and offers insights into how similar change might impact in the United Kingdom.
Professor David Clark, who is Director of the Dumfries Campus and Head of the School of Interdisciplinary Studies said that "The time seems right for a wider public discussion about the manner of our dying – how we engage with, prepare for and accept death. There is growing interest in how we should die – and of course there are conflicting views on that subject. This work looks at a nine year initiative to change the culture of dying in America – and it has some lessons that we might learn from that experience."
The book explores how attitudes in the United States were shaped by the work of the Project on Death in America (PDIA) which was funded by the philanthropist George Soros. Clark looks at the main findings on the PDIA, particularly on how it gave rise to wider discussions about death in local communities, through the arts and in efforts to raise public awareness. It also fostered new professional interest in the care of the dying – among doctors, nurses, social workers as well as among writers and researchers. Above all it challenged society to answer the question; 'what is a good death'?
Professor Clark added, "Good Life, Good Death, Good Grief Awareness Week, which runs from 13-15th May, is a time for individuals and organisations across Scotland to start talking about death, dying and bereavement in an open and mature way. I hope that my book, which looks at aspects of palliative care and puts the American experience into some context, can be part of that process of dialogue."
Related Links
Professor David Clark, Director of the Dumfries Campus and Head of the School of interdisciplinary Studies
School of Interdisciplinary Studies
---
For more information contact Cara MacDowall, cara.macdowall@glasgow.ac.uk or call 0141 330 3683