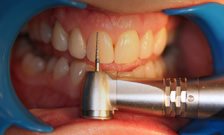 Having to pay for dental health care can put a considerable strain on household finances in many countries, according to an international study led by King's College London.
The new study, published in the journal PLOS ONE, assessed the extent of household 'catastrophic dental health expenditure' (CDHE) in 41 low and middle income countries. Expenditure was defined as catastrophic if it was equal to or higher than 40% of the household's capacity to pay.
Up to 7% of the households surveyed in these countries had incurred catastrophic dental health expenditure in the last month.
The study by King's, UCL and Universiti Teknologi MARA (Malaysia) found that wealthier, urban and larger households and more economically developed countries had higher odds of facing CDHE. In low and middle income countries, the use of dental services is more a function of household's ability to pay than of people's dental needs.
The analysis did not include the indirect costs of seeking dental care, including income loss due to ill health, travel, waiting at clinics or providing care to family members and the results therefore probably underestimate the financial consequences for dental health care on these households.
Dr Eduardo Bernabe, lead author from the Dental Institute at King's College London, said: 'Using dental services can cost households a large proportion of their available income and push many into poverty and long-term debt. Those needing dental treatment face both the direct costs of using the service and indirect loss of income to attend a clinic during working hours.
'Our study highlights the low level of financial protection that healthcare financing systems provides for their citizens. Dental public health advocates and international dental organizations should push for dental care to be included in current discussions about universal health coverage.'
Notes to editors
For more information, please contact Jenny Gimpel, PR Manager (Health) in the King's College London press office on tel: +44 (0)20 7848 4334, email jenny.gimpel@kcl.ac.uk
'Household Expenditure for Dental Care in Low and Middle Income Countries' by Masood et al is published online in the journal PLOS ONE on Wednesday 29 April 2015.
About King's College London
King's College London is one of the top 20 universities in the world (2014/15 QS World University Rankings) and among the oldest in England. King's has more than 26,500 students (of whom nearly 10,400 are graduate students) from some 150 countries worldwide, and nearly 6,900 staff. The university is in the second phase of a £1 billion redevelopment programme which is transforming its estate.
For more information, please visit King's in Brief.
About UCL (University College London)
Founded in 1826, UCL was the first English university established after Oxford and Cambridge, the first to admit students regardless of race, class, religion or gender, and the first to provide systematic teaching of law, architecture and medicine. We are among the world's top universities, as reflected by performance in a range of international rankings and tables. UCL currently has over 35,000 students from 150 countries and more than 11,000 staff. Our annual income is more than £1 billion.