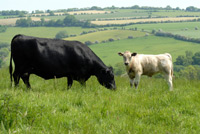 Farmers also had low levels of trust in the Government's ability to manage bovine Tuberculosis.
A total of 341 farmers were surveyed during the autumn of 2010 in five areas of England (Devon, Gloucestershire and Cheshire), including the area of the Badger Vaccine Deployment Project (BVDP) where badgers have been vaccinated against bTB. This survey preceded Defra's announcement in 2011 of their intention to license groups of farmers/landowners to cull badgers for the purpose of preventing the spread of bovine TB in cattle.
In general, 48% of farmers in this study thought that vaccination was a good thing to do, but only a quarter thought that it would help prevent the spread of bTB. Overall, 33% of the farmers that responded to the survey could be said to support badger vaccination, whilst 19% rejected it outright. These attitudes were related to farmers' views of Defra: less than a quarter of farmers thought Defra could manage vaccination competently; a third thought that the Government's scientific case for badger vaccination lacked credibility; and the vast majority (89%) believed that it was not their responsibility to pay for vaccination.
Farmers responding to the survey were pessimistic that they were able to do anything about avoiding bTB restrictions: 79% said that it was simply a matter of luck if their cattle got bTB. The majority of farmers (52%) did not think the Government were doing a good job in relation to bTB policy; 80% believed that bTB policy was too influenced by the general public (as opposed to veterinary or agricultural specialists); and 46% did not believe bTB policy decisions in general to have been fairly made.
Lead researcher Dr Damian Maye (UWE Bristol and CCRI) said, "This research has provided an important preliminary analysis of farmers' confidence in badger vaccination. The results suggest farmers have cautious views about the role of vaccination to control bTB in cattle. In particular, farmers surveyed were concerned about the practicality of badger vaccination."
Dr Gareth Enticott (Cardiff University) added, "What this research is showing is that farmers are not confident that vaccination will work, partly because they had low levels of trust in the Government's approach to bovine TB."
This press release is based on a paper recently published in Veterinary Record. A full copy of the paper can be accessed here: http://veterinaryrecord.bmj.com/content/early/2012/01/10/vr.100079.abstract