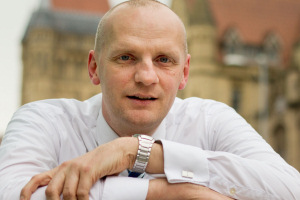 Researchers from The University of Manchester are joining forces with those in Bristol, Glasgow and Dundee for the 3D Study – a project which will see a new management system trialled in selected GP practices.
This £1.78 million study, which will last for three years, is funded by the National Institute of Health Research (NIHR) through its Health Services and Delivery Research (HS&DR) Programme.
At present, patients with more than one health condition such as diabetes, heart disease or kidney disease usually attend separate appointments for regular reviews of each of their conditions, which can be inconvenient and inefficient for them. They see a lot of different doctors and nurses, and can feel that no-one takes overall responsibility for their care.
Under the new system, patients will be allocated a nurse and doctor to oversee their care and will be invited for a comprehensive health review every six months to discuss all their health issues. Patients' concerns and priorities will be identified, their drugs will be reviewed and they'll be checked for symptoms of depression.
The aim is to treat the patient in a consistent, joined-up manner in order to improve their overall quality of life.
Professor Peter Bower, lead investigator in Manchester based at the University's Centre for Primary Care based in the Institute of Population Health, said: "We are delighted to be participating in the 3D study, which extends our existing research on self-management, care planning, and multimorbidity.
"3D is an excellent example of primary care departments working together through the NIHR School for Primary Care Research to develop high quality, large scale research bids to answer key questions for the NHS."
Professor Chris Salisbury, from the Centre for Academic Primary Care at the University of Bristol, who is leading the study, said: "We know that an increasing number of people have more than one long-term health condition. At the moment, each disease is managed in isolation and this can lead to confusion and inconvenience for the patient.
"We hope this study will show that a more consistent and joined-up approach will benefit the patient greatly and ultimately improve their wellbeing."
The new management system will first be tested in four practices before being refined and rolled out in Bristol, Manchester and Glasgow. A total of 32 GP practices and over 1,300 patients with three or more long-term conditions will take part in the main study.
To ensure a direct comparison, half of these practices will be randomly assigned to the new system while the other half will continue to work in the same way as they do now.
Participants from both groups will fill in questionnaires after six and 12 months about their wellbeing, illness and treatments, and their experience of their care. Researchers will also compare the cost of the old and new approaches, both to the NHS and the patient.
The research is being carried out by a collaboration including researchers from the University of Bristol, The University of Manchester, the University of Glasgow, the University of Dundee, the Royal College of General Practitioners, NHS England and Bristol Clinical Commissioning Group (CCG).
ENDS
Notes for editors
About 3D health reviews
The '3D' health review takes place every six months and is designed to cover all of the patient's health issues. The patient will first see their named nurse who will identify the patients' concerns and priorities (Dimensions of health), as well as perform any routine checks required by each of the patients' conditions. The patients' Drugs will be reviewed by a pharmacist and the GP and to check they are being correctly prescribed (without dangerous interactions), taken properly and where possible, the doctor will try to simplify the patient's prescriptions e.g. by arranging for all of them to be taken once a day. The named GP will check for and treat symptoms of Depression, since it is known that people with several long term health problems frequently get depressed.
About the NIHR
The National Institute for Health Research (NIHR) is funded by the Department of Health to improve the health and wealth of the nation through research. Since its establishment in April 2006, the NIHR has transformed research in the NHS. It has increased the volume of applied health research for the benefit of patients and the public, driven faster translation of basic science discoveries into tangible benefits for patients and the economy, and developed and supported the people who conduct and contribute to applied health research. The NIHR plays a key role in the Government's strategy for economic growth, attracting investment by the life-sciences industries through its world-class infrastructure for health research. Together, the NIHR people, programmes, centres of excellence and systems represent the most integrated health research system in the world. For further information, visit the NIHR website (www.nihr.ac.uk).
For further information about The University of Manchester role in the research, please contact Alison Barbuti, Media Relations Officer, Faculty of Medical and Human Sciences, 0161 275 8383
[email protected]