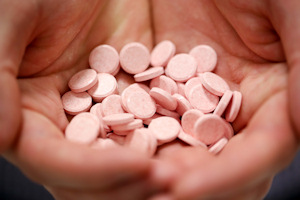 The Roadshow tackles issues about medication safety
The road show is in response to research by the NIHR Greater Manchester Primary Care Patient Safety Translational Research that found that one in eight people have problems with prescribed medicines. This research group is the only primary care patient safety research centre in the world and is currently investigating how errors occur and what changes can be made to the health system to improve patient safety.
Lead researcher, Professor Stephen Campbell says: "Prescribers have a responsibility to prescribe safely. However, it's important also for the public to check their medicines, understand their role and know what they should do if they have any problems. We don't want to alarm people, but thousands of patients experience difficulties every year and our research aims to reduce this."
A team a researchers has been working with local patients and a school from Wythenshawe to develop plans for the 'Wonder-drug Roadshow'. The first event will be at the Museum of Science and Industry on Tuesday 28 October, followed by sessions in Wythenshaw on Wednesday 29 October and Salford on Thursday 30 October.
One of the patients working on the roadshow, Carolyn Gamble, was keen to share her experience with medicines: " I have experienced side effects in the past, some mild and some severe. I have been given the wrong medications on a number of occasions. My experience over the years has taught me to be careful and responsible. I want to encourage others to take ownership for themselves and not leave their own medication safety in other people's hands."
The 'Wonder-drug Roadshow' offers the public the chance to speak with researchers, try intriguing activities and vote on key questions. The researchers want to hear what the public thinks on this topic, as well as share their latest findings. There are activities for people aged 5-95 and thought-provoking artwork made by Manchester Health Academy School.
Notes for editors
For more information, images, interviews with the researchers and patients or to arrange a visit to the roadshow please contact:
Morwenna Grills
Media Relations Officer
Faculty of Life Sciences
The University of Manchester
Tel: 0161 275 2111
Mob: 07920 087466
Email: morwenna.grills@manchester.ac.uk

Greater Manchester PSTRC –
The Greater Manchester Primary Care Patient Safety Translational Research Centre (Greater Manchester PSTRC) is funded by the National Institute for Health Research (NIHR) for five years (£6,291,208 from August 2012) and works on behalf of Salford Royal NHS Foundation Trust, in partnership with The University of Manchester. It is a unique and groundbreaking Centre, with a strong patient and public involvement and engagement agenda. For more information click here.

Wonder-drug Roadshow
This roadshow visits three venues during the last week of October 2014. It has something for everyone, with fun activities for kids and news about our latest research for adults. Find out what you can do to get the best from your medicines. Everyone is welcome and booking is not required. For further information click here.

Roadshow visits the following locations:
28 October 10.30am-4pm Museum of Science and Industry (Power Hall)
29 October 11.00am-3pm Wythenshawe Forum (main concourse)
30 October 11.00am-3pm Pendleton Gateway – Salford (main foyer)
This roadshow is supported by the Public Programmes Team at Central Manchester University Hospitals NHS Foundation Trust, who work in partnership with the Greater Manchester PSTRC on public engagement activities.

Manchester Science Festival – Supported by Siemens
A burst of creation, experimentation and wonder is at the heart of this year's Manchester Science Festival (MSF) proudly produced by the Museum of Science & Industry – supported by Siemens and Lead Education Partner University of Salford. Running from 23 October – 2 November in over 40 venues across Greater Manchester, this award-winning Festival is now in its eighth year. With more city-wide and creative collaborations than ever before, this diverse and inspiring 11 day programme features World Premieres, internationally acclaimed art and artists, cutting-edge science, comedy, hands-on workshops, evening events, talks and a jam-packed family programme all designed to inspire, engage and immerse visitors of all ages with the science that lives all around us. www.manchestersciencefestival.com
Museum of Science & Industry
The Museum of Science & Industry tells the story of where science met industry and the modern world began whilst telegraphing Manchester as a 21st century city of science. The Museum (MOSI) sits on one of the nation's most historic industrial heritage sites. Covering 7.5 acres and including five listed buildings, this small corner of Manchester is one of the key places in the UK, and therefore in the world, where the Industrial Revolution began. On MOSI's site are some of the city's finest 19th century warehouses – including the first railway warehouse – and it is home to the world's oldest surviving passenger railway station. The museum's mission is: To explore where science met industry and the modern world began, and to understand the impact that Manchester science, technology, and innovation continues to have on all our lives.